About project
The program allows members to get discount prices for chosen products. Our task was to create promotional materials that will be a part of daily life of the clients. We wanted to show on graphics that lower prices don't mean compromising about quality and taste.
Program umożliwia posiadaczom karty korzystanie z cen promocyjnych na wybrane produkty. Naszym zadaniem było stworzenie materiałów, które staną się elementem codzienności klientów i podkreślić, że niższe ceny nie muszą wiązać się z kompromisem w kwestii jakości i smaku.
Deli-card in delicatessen
The brand offers a wide variety high quality fresh products. When creating a name for the loyalty program, we used the first part of the word "delicatessen" to tie the name with the brand and with something special and unique. Then we created "deli-price" and other deli-words that would be understandable by the user without special vocabulary and definitions.
Just pay less
The logo is built with two parts: a logotype with orange balloon as a signet. We used two fonts: one handwritten that emphasizes individuality and other minimalistic sans-serif that means clarity and simplicity in program's rules.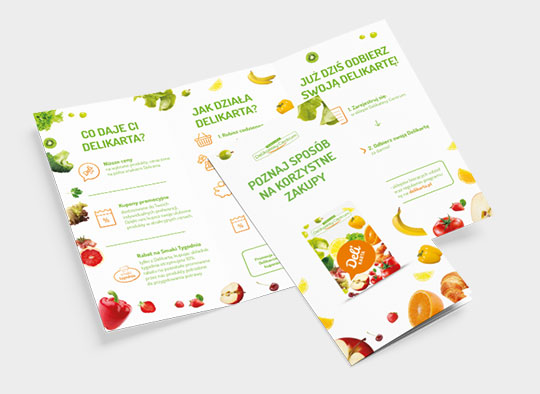 Did you like our project?
Fill the form and check, how we can help your company.