Scope of work
research and strategic analysis
communication concept and campaign plan
copywriting
landing page design
social media posts
our task
Our task was to create a unique campaign to debunk the myth that having a tattoo stops you from becoming a bone marrow and blood stem cell donor. Happily for us, this isn't the first campaign we've implemented with DKMS Foundation!
You can read about our previous actions, including a promotional campaign at the Pol'and'Rock 2019 festival and creative parcels for National Marrow Donor Day. Thanks to this regular cooperation, on the one hand, we are aware of the client's needs, we understand the specifics of their work and the requirements of their brand book, and on the other, DKMS Foundation knows how we think as an agency, what our ways of working are and what they can expect from us.
In the case of this campaign, we wanted to reach tattoo artists and influencers with tattoos. In this way, we hoped to counter the prevailing stereotypes and encourage people with 'tats' to register as potential donors with DKMS Foundation. It was also important to reach a specifically defined target audience who so far had remained beyond the reach of the client's messaging.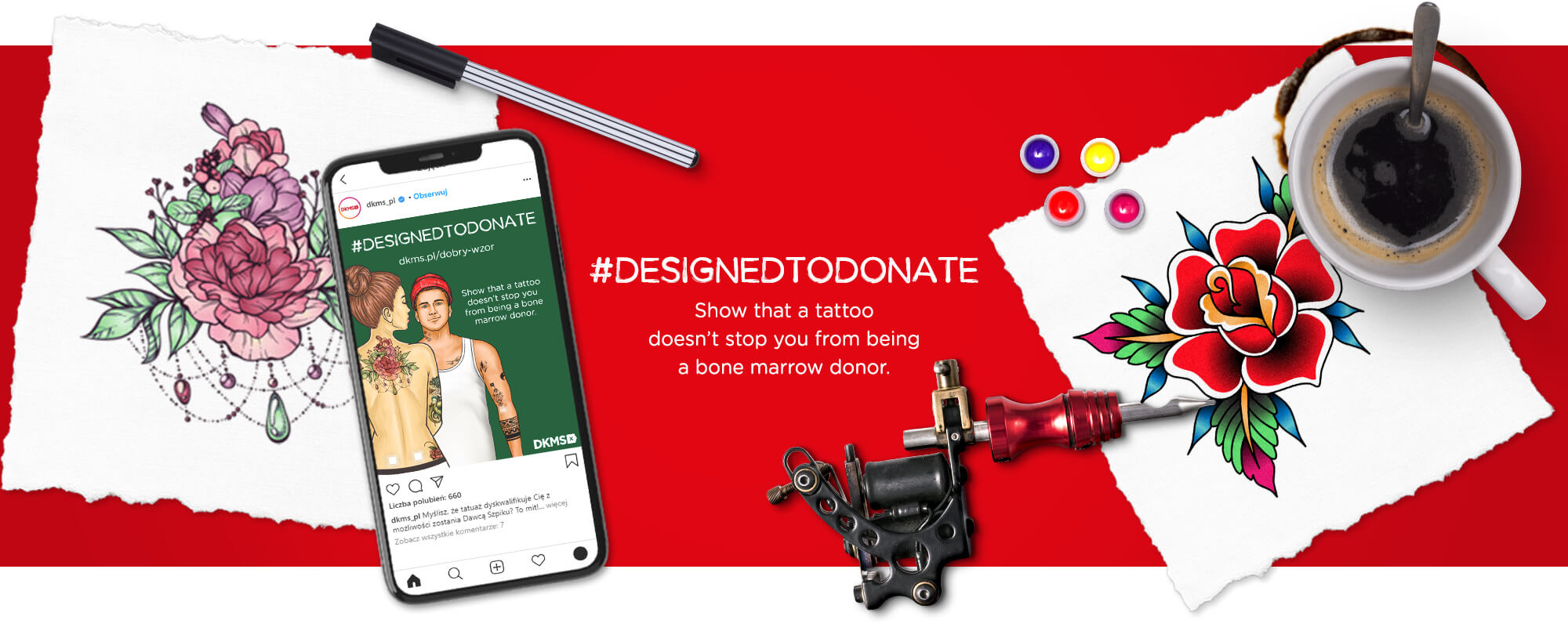 From design
to execution…
We started work on the campaign concept by conducting thorough research and strategic analysis. At the beginning, we checked what stereotypes and opinions are circulating online about having tattoos and the possibility of becoming a bone marrow donor.
"It turned out that the internet is full of false opinions on this subject. The most frequently repeated myth is that if people with tattoos can't donate blood for six months from the moment of getting the tattoo, then they can't donate bone marrow. This is a common misconception."

Grzegorz Cygal, Strategy Specialist w 1000ideas
We thought about how we could reach the people who hold such beliefs. We were looking for a way to communicate with them and convince them that they were worrying unnecessarily. The starting point for this approach was the observation that each tattoo is unique and one-of-a-kind, just like the people who get the designs on their skin. A tattoo is a form of demonstration, of expressing yourself in an original way.
"Regardless of the style of your 'tats', every person can become a role model for others – for example, by registering as a potential bone marrow and stem cell donor with DKMS Foundation. This is how we came up with the idea for the slogan promoting the campaign: "Show others that we're designed to donate" and the hashtag #DobryWzór [#DesignedToDonate] which is a form of translating the slogan into social media messaging. The idea was for people who already have tattoos to help convince others that being 'inked' doesn't stop you from becoming a donor."

Robert Kochan, Senior Copywriter at 1000ideas
The next step was to reach the right people – artists, tattoo studios and tattooed micro-influencers – and convince them to participate in our campaign. Fortunately, we received a very positive response from both tattoo artists and their clients.
Then it was time to launch the entire campaign on the specially designed landing page and on social media, which the creative part of our team took great pleasure in doing.
As part of the campaign, we put together special graphics showing images of people with tattoos and encouraging people to consider the noble idea of being a potential bone marrow and stem cell donor. There are a variety of different styles of tattoo design, and graphic materials were created to reflect these.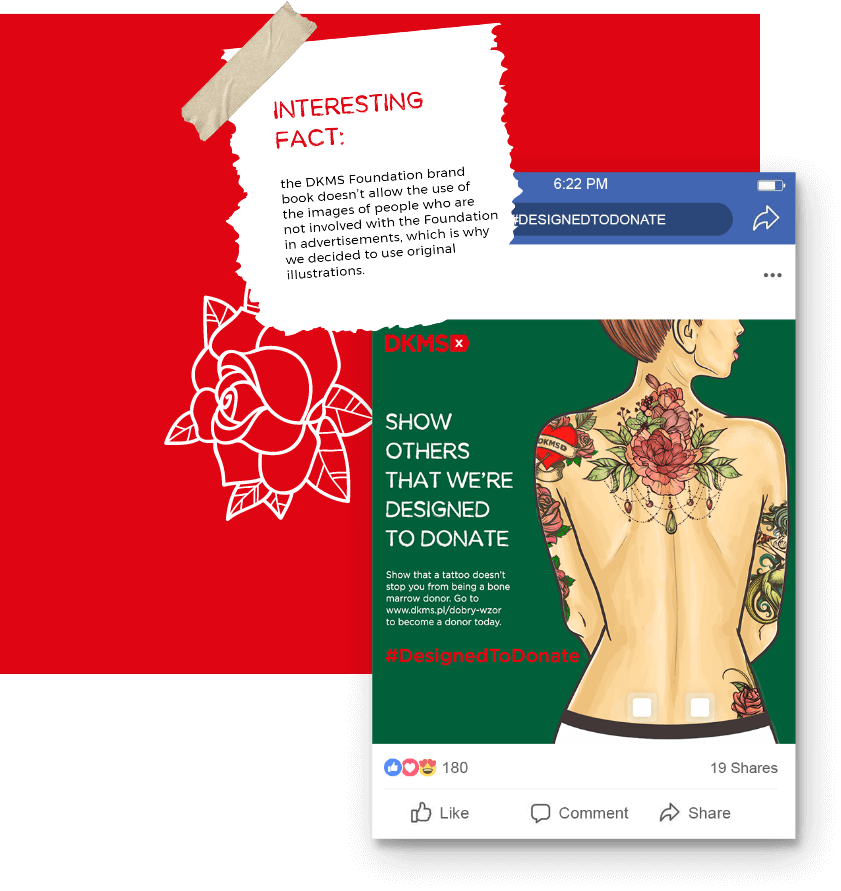 The back in the picture above belongs to a woman (interesting fact: the DKMS Foundation brand book doesn't allow the use of the images of people who are not involved with the Foundation in advertisements, which is why we decided to use original illustrations) who appreciates the classic style of body art. A humorous touch here is the heart on the shoulder, pierced by an arrow and with the word "DKMS". In turn, the two white squares are a dressing applied after bone marrow and stem cells have been collected from the iliac crest.
The procedure is performed under general anaesthesia, so it's painless for the donor. Only around 15% to 20% of all cases involve the collection of bone marrow from this site. It's usually collected from the peripheral blood. Where the back is concerned, aside from a small dressing and some temporary discomfort in the lower section, there's really nothing to be afraid of!
In the case of the above graphic, it was cropped in a specific way so that the viewer's attention wouldn't be focused on the man's posture, but rather on the tattoos decorating his body. His tattoos were inspired by the tattoos of world-famous rock stars – Axl Rose, James Hetfield and Marilyn Manson. Here, too, we decided to share a small humorous touch with the audience. The word "Angel" refers to the idea that donors are angels for those who are ill. As part of the campaign, several more versions were created, reflecting various tattoo styles.
To engage our audience, we also created graphics without tattoos so that creators could decorate the images themselves. In this way, we hoped to meet artists' expectations in terms of their need to maintain graphic consistency within their social media channels.
We were delighted when both the idea and the graphics themselves met with a great response both among tattoo artists and their clients, as well as people just preparing to get their first tattoo:
As part of the campaign, we managed to reach over 850,000 people via the client's own channels, and the micro-influencers with whom we established cooperation generated over 86 social media posts. You can see some of them here for example.
A surprisingly high number of people chose to decorate our 'blank' image with their own tattoo ideas!
On Facebook, there were 10 tattoo studios and independent artists, and on Instagram, 19 feed posts and 57 posts on InstaStories.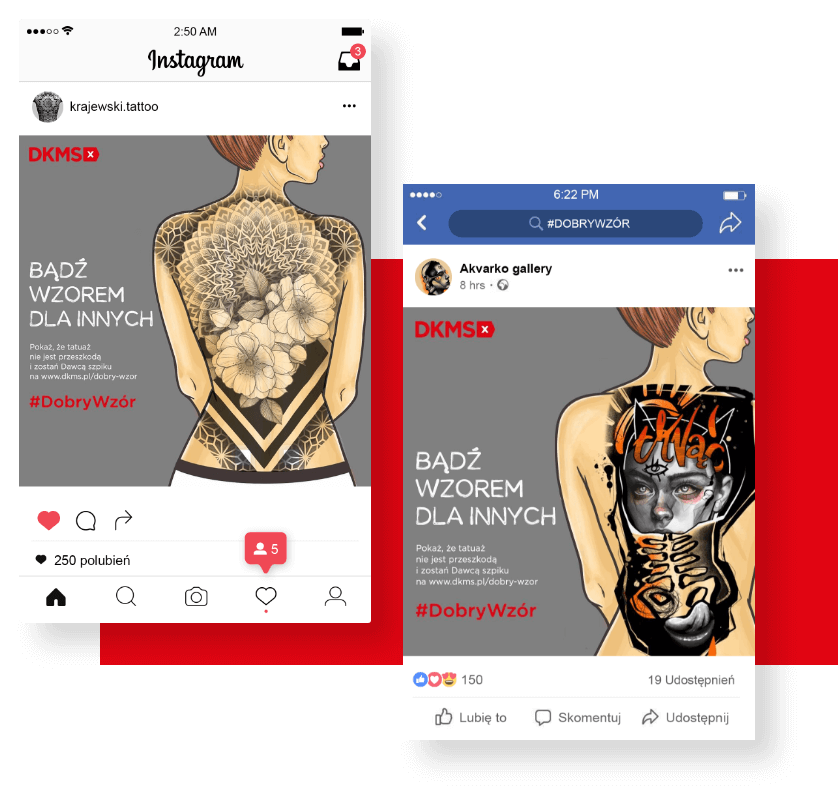 Our landing page recorded over 100 registrations of potential donors, which is quite a success in such a short time!
Thanks to the campaign, the Foundation was also invited onto the regional breakfast programme Witaj Wielkopolsko [Hello Wielkopolska]! The interview was attended by the medical consultant of DKMS Foundation, Grzegorz Hensler, and an actual tattooed donor, Damian. We also counted 39 media mentions based on two press releases sent out.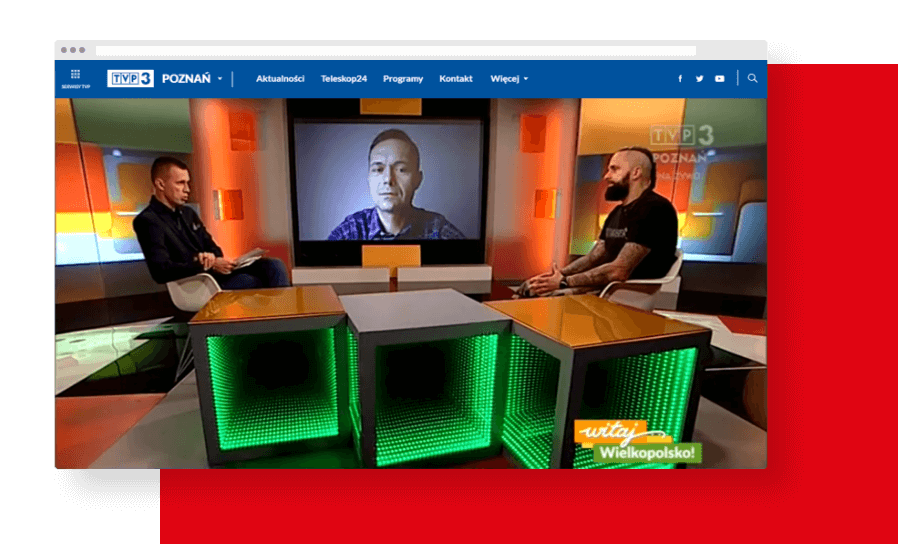 We're really pleased with this result, because reaching such a specific and narrow target audience was quite a challenge. We believe that the result of the action also confirms our earlier assumptions.
Of course, we wouldn't be us if we didn't point out the fact that the best campaigns are created in close and direct cooperation with the client.
Regular cooperation, such as we have with DKMS Foundation, allows the agency to better understand the problems faced by the brand every day, and helps the client to better understand the specific nature and ways of working of advertising agencies.
We're also delighted that the employees of DKMS Foundation speak about our cooperation in similar terms: they point to our communication skills, unconventional ideas, good service and reliable implementation. You can read more about this project from the client's perspective in the reviews on Clutch .
Did you like our project?
Fill the form and check, how we can help your company.